"#2 Public course in New Jersey, 2005 – 2006" – Golf Digest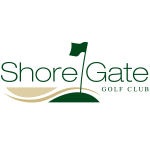 Among the newer courses at the seashore, Shore Gate has quickly developed a reputation for excellence, earning status as "#2 Public Course in New Jersey" by Golf Digest, 2005-2006.
Carved from 245 acres of pristine forest, only a few miles from the ocean, Shore Gate serves up a unique combination of parkland and links elements in a dramatic sculptured, undulating landscape. It's an enjoyable and formidable challenge to golfers of every level in a strikingly picturesque setting.
Designed by the world renowned Golfplan – Fream & Dale Golf Course Architects of Santa Rosa, Calif., Shore Gate's architects took great care to preserve the wetlands and other natural endowments of this pristine environment. Pines, oaks, maple, holly and laurel beautifully frame the entire course. Seven lakes, 88 bunkers, vertical dunes and ocean breezes offer additional visual and strategic elements that put a premium on accuracy.
The course features five sets of tee markers on each hole, enabling each player to custom design the Shore Gate experience according to ability. Total yardage ranges from 5,200 to 7,200.
In addition to its recent statewide honor, Shore Gate was named among the 10 "Best New Upscale Public Courses" by Golf Digest for 2003 and earned a place on GOLF Magazine's list of "Top 10 You Can Play" in 2002.
 Video
Scorecard
| OUT | 1 | 2 | 3 | 4 | 5 | 6 | 7 | 8 | 9 | TOTAL |
| --- | --- | --- | --- | --- | --- | --- | --- | --- | --- | --- |
| PAR | 4 | 4 | 4 | 4 | 3 | 5 | 4 | 3 | 5 | 36 |
| Professional | 394 | 432 | 404 | 370 | 163 | 589 | 401 | 225 | 648 | 3626 |
| Championship | 365 | 401 | 386 | 345 | 149 | 565 | 388 | 204 | 616 | 3419 |
| Regular | 333 | 398 | 374 | 324 | 136 | 537 | 371 | 188 | 577 | 3238 |
| Senior | 293 | 370 | 350 | 300 | 105 | 511 | 344 | 168 | 531 | 2972 |
| Forward | 256 | 332 | 310 | 270 | 91 | 459 | 284 | 154 | 457 | 2604 |
| IN | 10 | 11 | 12 | 13 | 14 | 15 | 16 | 17 | 18 | TOTAL |
| --- | --- | --- | --- | --- | --- | --- | --- | --- | --- | --- |
| PAR | 4 | 4 | 4 | 5 | 3 | 4 | 5 | 3 | 4 | 36 |
| Professional | 470 | 409 | 410 | 556 | 144 | 406 | 542 | 204 | 460 | 3601 |
| Championship | 435 | 376 | 387 | 536 | 130 | 378 | 526 | 185 | 422 | 3375 |
| Regular | 400 | 345 | 355 | 512 | 112 | 350 | 509 | 179 | 391 | 3162 |
| Senior | 375 | 320 | 321 | 488 | 108 | 334 | 484 | 164 | 374 | 2968 |
| Forward | 331 | 287 | 290 | 434 | 94 | 302 | 456 | 145 | 341 | 2680 |
Course Statistics
| | OUT | IN | TOTAL | SLOPE | RATE |
| --- | --- | --- | --- | --- | --- |
| Professional | 3626 | 3601 | 7227 | 75.3 | 136 |
| Championship | 3419 | 3375 | 6794 | 73.3 | 132 |
| Regular | 3238 | 3162 | 6400 | 70.8 | 128 |
| Senior | 2972 | 2968 | 5940 | 68.8 | 125 |
| Forward | 2604 | 2680 | 5284 | 71.2 | 126 |
Directions
Shore Gate Golf Club
35 School House Lane
Ocean View, NJ 08230
(609) 624-8337
VIEW MAP