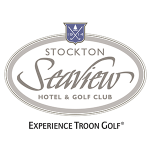 The Bay course, covering nearly 6,300 wind swept yards, is the best known of the two courses. The Bay course played host to the 1942 PGA Championship. It was during the 1942 PGA Championship that Sam Snead won his first major championship.
The Bay, opened in 1914, is a textbook Donald Ross seaside course, running along Reed's Bay, which means it has a Scottish feel. The course features classic mounding, deep pot bunkers and high faced-bunkers, plus small greens with subtle undulations. Tall fescue grasses guard many of the bunkers. The Bay course is dramatically affected by the severity of the winds rolling off of the Atlantic Ocean.
Hole #2 represents the Bay's signature hole. This 432-yard par 4 plays directly toward the Atlantic Ocean. Dramatically influenced by the winds blowing off of the Atlantic, the hole can play much longer, or shorter than the actual yardage. Out of bounds guards wayward tee shots to the right and two large fairway bunkers guard the left side of the fairway. Second shot must be precisely struck, as there is trouble to the left, right and behind the green. The left side is protected by a natural lateral water hazard, while native marsh grasses guard the right side. Behind the green is the most spectacular view of the Atlantic City skyline from any shore point. The putting surface is pure Donald Ross. Ross's crowned green challenges even those with the best putting strokes, Par is a great score!
Video
Scorecard
| HOLE | 1 | 2 | 3 | 4 | 5 | 6 | 7 | 8 | 9 | OUT |
| --- | --- | --- | --- | --- | --- | --- | --- | --- | --- | --- |
| Blue | 357 | 434 | 484 | 360 | 301 | 393 | 190 | 319 | 476 | 3314 |
| White | 345 | 421 | 464 | 347 | 291 | 380 | 180 | 302 | 463 | 3193 |
| Gold | 293 | 341 | 394 | 290 | 255 | 319 | 110 | 288 | 411 | 2701 |
| Par | 4 | 4 | 5 | 4 | 4 | 4 | 3 | 4 | 5 | 37 |
| Handicap | 9 | 1 | 7 | 11 | 15 | 3 | 17 | 13 | 5 | |
| HOLE | 10 | 11 | 12 | 13 | 14 | 15 | 16 | 17 | 18 | IN | TOTAL |
| --- | --- | --- | --- | --- | --- | --- | --- | --- | --- | --- | --- |
| Blue | 352 | 230 | 320 | 415 | 419 | 204 | 377 | 115 | 501 | 2933 | 6247 |
| White | 337 | 221 | 311 | 401 | 403 | 193 | 366 | 104 | 482 | 2818 | 6011 |
| Gold | 272 | 179 | 275 | 325 | 321 | 150 | 294 | 92 | 408 | 2316 | 5017 |
| Par | 4 | 3 | 4 | 4 | 4 | 3 | 4 | 3 | 5 | 34 | 71 |
| Handicap | 10 | 14 | 12 | 6 | 2 | 16 | 8 | 18 | 4 | | |
Directions
Stockton Seaview Hotel & Golf Club
401 S New York Rd
Galloway, NJ 08205
(609) 748-7680
VIEW MAP