4 ½ Stars, Golf Digest's "Places to Play"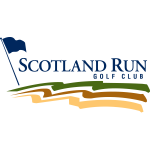 Built in and around an old sand quarry, Scotland Run offers a distinctive blend of wooded, quarry, and links-style holes. The most unique characteristics include expansive waste areas and an imposing display of cliffs. Located 20 minutes from downtown Philadelphia and only 40 minutes from Atlantic City, Scotland Run is open to the public year-round for daily-fee play, group outings & banquets.
A Golf Digest 4 1/2-Star winner, Scotland Run was named the one of the Top 50 Public Courses in the country by the readers of Golf World in their annual Readers' Choice Awards in 2009 and 2010. The course also has the honor of being awarded the number 1 course in the Philadelphia Region by Business Week Magazine.
Scorecard
| HOLE | 1 | 2 | 3 | 4 | 5 | 6 | 7 | 8 | 9 | OUT |
| --- | --- | --- | --- | --- | --- | --- | --- | --- | --- | --- |
| Black | 520 | 454/414 | 370 | 165 | 457 | 315 | 372 | 406 | 223 | 3282 |
| Blue | 510 | 435/395 | 365 | 153 | 451 | 312 | 357 | 385 | 212 | 3180 |
| White | 493 | 418/378 | 332 | 143 | 431 | 303 | 340 | 353 | 191 | 3004 |
| Par | 5 | 4 | 4 | 3 | 4 | 4 | 4 | 4 | 3 | 35 |
| Handicap | 8 | 6 | 12 | 18 | 2 | 14 | 10 | 4 | 16 | |
| Green | 470 | 392/352 | 271 | 112 | 394 | 265 | 302 | 304 | 167 | 2677 |
| Red | 420 | 371/331 | 241 | 90 | 367 | 230 | 285 | 281 | 135 | 2420 |
| HOLE | 10 | 11 | 12 | 13 | 14 | 15 | 16 | 17 | 18 | IN | TOTAL |
| --- | --- | --- | --- | --- | --- | --- | --- | --- | --- | --- | --- |
| Black | 545 | 404 | 465 | 217 | 315 | 164 | 402 | 486 | 530 | 3528 | 6810 |
| Blue | 510 | 374 | 445 | 200 | 304 | 153 | 375 | 461 | 514 | 3336 | 6516 |
| White | 492 | 338 | 434 | 172 | 275 | 140 | 360 | 421 | 502 | 3134 | 6138 |
| Par | 5 | 4 | 4 | 3 | 4 | 3 | 4 | 4 | 5 | 36 | 71 |
| Handicap | 11 | 13 | 3 | 9 | 15 | 17 | 7 | 1 | 5 | | |
| Green | 468 | 318 | 380 | 155 | 252 | 135 | 332 | 372 | 465 | 2877 | 5554 |
| Red | 438 | 302 | 290 | 130 | 238 | 118 | 272 | 363 | 439 | 2590 | 5010 |
Course Statistics
| | Rating | Slope |
| --- | --- | --- |
| Black | 73.3 | 134 |
| Blue | 72.0 | 132 |
| White | 70.4 | 128 |
| Green | 67.4 | 118 |
| Red | 69.5 | 120 |
Directions
Scotland Run Golf Club
2626 Fries Mill Road
Williamstown, NJ 08094
(856) 863-3737
VIEW MAP