3 Stars: Golf Digest's "Places to Play"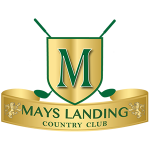 Under ALL New Ownership! Mays Landing Country Club was purchased late August 2015, and is now under new ownership for the new 2016 season. We have many great improvements planned for the golf course, clubhouse and outside areas of our clubhouse.
Challenging Playable and Fun
Designed by the late Leo Fraser, past president of the PGA and a renowned golf pioneer, Mays Landing is his legacy… a picturesque, challenging and supremely conditioned course with impeccable service, excellent conditions and affordable green fees in keeping with his commitment to making the game accessible to all. The club opened in 1962 with an exhibition match between Sam Snead and Tony Lema. Mays Landing was awarded "3 Stars" by Golf Digest's "Places to Play" – and continues to be one of the region's most affordable courses.
Video
Scorecard
| HOLE | 1 | 2 | 3 | 4 | 5 | 6 | 7 | 8 | 9 | OUT |
| --- | --- | --- | --- | --- | --- | --- | --- | --- | --- | --- |
| Back – Blue | 310 | 489 | 180 | 430 | 341 | 220⁄194 | 373 | 541 | 412 | 3296 |
| Middle – White | 296 | 478 | 154 | 420 | 317 | 172 | 357 | 527 | 388 | 3109 |
| Senior – Gold | 244 | 391 | 127 | 368 | 300 | 146 | 299 | 431 | 293 | 2599 |
| Forward – Red | 239 | 386 | 116 | 363 | 295 | 123 | 294 | 426 | 288 | 2530 |
| Par – Men | 4 | 5 | 3 | 4 | 4 | 3 | 4 | 5 | 4 | 36 |
| Par – Women | 4 | 4 | 3 | 4 | 3 | 3 | 4 | 5 | 4 | 35 |
| Handicap M/W | 10 | 16⁄4 | 18 | 2 | 12⁄14 | 14⁄16 | 8 | 4⁄6 | 6⁄17 | |
| HOLE | 10 | 11 | 12 | 13 | 14 | 15 | 16 | 17 | 18 | IN | TOT |
| --- | --- | --- | --- | --- | --- | --- | --- | --- | --- | --- | --- |
| Back – Blue | 330 | 207 | 414 | 331 | 334 | 183 | 360 | 424 | 516 | 3099 | 6395 |
| Middle – White | 310 | 188 | 379 | 301 | 327 | 164 | 339 | 405 | 500 | 2913 | 6022 |
| Senior – Gold | 290 | 166 | 341 | 269 | 322 | 137 | 298 | 355 | 469 | 2647 | 5246 |
| Forward – Red | 264 | 133 | 336 | 264 | 317 | 132 | 293 | 350 | 464 | 2553 | 5083 |
| Par – Men | 4 | 3 | 4 | 4 | 4 | 3 | 4 | 4 | 5 | 35 | 71 |
| Par – Women | 4 | 3 | 4 | 4 | 4 | 3 | 4 | 4 | 5 | 35 | 70 |
| Handicap M/W | 9 | 11⁄15 | 5 | 17⁄7 | 7⁄11 | 8 | 14⁄16 | 13 | 1 | 3 | |
Course Statistics
| | Yards | Par | Rating | Slope |
| --- | --- | --- | --- | --- |
| Blue | 6633 | 72 | 72.5 | 124 |
| White | 6251 | 72 | 70.6 | 119 |
| Gold | 5448 | 72 | 66.8 | 108 |
| Red | 5334 | 73 | 70.7 | 116 |
Directions
Mays Landing Country Club
1855 Cates Rd
Mays Landing, NJ 08330
(609) 641-4411
VIEW MAP