4 Stars: Golf Digest's "Places to Play"
A certified Audubon cooperative sanctuary – An Environmental Treasure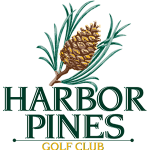 Golf Magazine says "In South Jersey the diamond tiara belongs to Harbor Pines." Golf For Women Magazine rated it one of the "Top 100 women-friendly courses in the U.S." The rave reviews keep coming! "This is as pure a design as you're likely to find – no copied holes, no artificial bulldozer mounds, no gimmicks," says New Jersey Monthly.
For its commitment to environmentally-friendly facilities management, Harbor Pines is one of only 16 golf clubs in New Jersey to earn status as a "Certified Audubon Cooperative Sanctuary" from Audubon International.
Harbor Pines offers world-class golf with a focus on pure enjoyment – a fair test of your game and very player friendly! Hit the shots and you'll score. Five sets of tees, breathtaking vistas, 17 acres of water, 520 acres of dense pine forest. Most holes are so private, you feel you're playing each in your own natural amphitheater … and course conditions are unequaled.
Harbor Pines is a regional favorite. You will understand why once you experience the beauty of the property, with its wide open fairways and large, undulating greens. Add the spectacular 20,000 sq. ft. clubhouse, full-service practice facilities and our legendary attention to detail – it's no wonder guests return again and again.
It's close to Atlantic City's top attractions, yet a relaxed world apart, providing personalized VIP service every minute you are here.
Video
Scorecard
| HOLE | 1 | 2 | 3 | 4 | 5 | 6 | 7 | 8 | 9 | OUT |
| --- | --- | --- | --- | --- | --- | --- | --- | --- | --- | --- |
| Black | 505 | 380 | 170 | 400 | 452 | 394 | 526 | 215 | 460 | 3502 |
| Blue | 480 | 360 | 153 | 395 | 422 | 364 | 502 | 190 | 435 | 3301 |
| White | 465 | 340 | 143 | 370 | 402 | 345 | 474 | 170 | 419 | 3128 |
| Par | 5 | 4 | 3 | 4 | 4 | 4 | 5 | 3 | 4 | 36 |
| Handicap Men | 15 | 9 | 17 | 5 | 3 | 7 | 13 | 11 | 1 | |
| Handicap Women | 13 | 11 | 15 | 7 | 1 | 9 | 5 | 17 | 3 | |
| Green | 430 | 282 | 125 | 313 | 378 | 279 | 435 | 159 | 367 | 2768 |
| Red | 412 | 271 | 123 | 296 | 360 | 263 | 418 | 137 | 346 | 2626 |
| HOLE | 10 | 11 | 12 | 13 | 14 | 15 | 16 | 17 | 18 | IN | TOTAL |
| --- | --- | --- | --- | --- | --- | --- | --- | --- | --- | --- | --- |
| Black | 540 | 182 | 339 | 400 | 335 | 179 | 402 | 461 | 487 | 3325 | 6827 |
| Blue | 530 | 172 | 333 | 383 | 325 | 158 | 385 | 437 | 479 | 3202 | 6503 |
| White | 511 | 162 | 291 | 351 | 315 | 150 | 367 | 409 | 458 | 3014 | 6142 |
| Par | 5 | 3 | 4 | 4 | 4 | 3 | 4 | 4 | 5 | 36 | 72 |
| Handicap Men | 8 | 10 | 14 | 6 | 16 | 18 | 4 | 2 | 12 | | |
| Handicap Women | 6 | 16 | 14 | 8 | 10 | 18 | 4 | 2 | 12 | | |
| Green | 440 | 142 | 266 | 318 | 279 | 117 | 321 | 364 | 423 | 2670 | 5438 |
| Red | 419 | 130 | 233 | 296 | 252 | 108 | 298 | 335 | 402 | 2473 | 5099 |
Course Statistics
| Tees | Yards | Par | Rating | Slope |
| --- | --- | --- | --- | --- |
| Black | 6827 | 72 | 73.0 | 134 |
| Blue | 6503 | 72 | 71.0 | 126 |
| White | 6142 | 72 | 69.1 | 122 |
| Green | 5438 | 72 | 66.5 | 120 |
| Red | 5099 | 72 | 68.8 | 118 |
Directions
Harbor Pines Golf Club
500 St. Andrews Drive
Egg Harbor Township, NJ 08234
(609) 927-0006
VIEW MAP