3-1/2 Stars: Golf Digest's "Places to Play"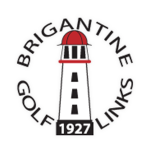 The closest course to Atlantic City's legendary Boardwalk and casinos is Brigantine Golf Links, an authentic Scottish links golf course on the barrier island of Brigantine – a true taste of Scotland at the Jersey Shore! Built in 1927, this seaside layout was designed by legendary architects Wayne Stiles & John Van Kleek. True to its Scottish roots, the course includes breathtaking bay views, native marshes, gently rolling terrain with few trees, berms & moundings, tidal water hazards, newly renovated bunkers and prevailing sea breezes. The course boasts impeccable conditions with a fair but challenging layout.
Critics have taken notice. Brigantine Golf Links was recognized as a "Top 100 Must-Play Course" by Philadelphia Golf Monthly and is ranked the "Best Value Course in South Jersey" by PubLinks Magazine and a "Must Play" for Atlantic City visitors.
With its coastal location, modern amenities and historic grandeur, Brigantine Golf Links has its fair share of benefits: a comfortable year-round climate (Brigantine is cooler in summer and warmer in winter); a renovated clubhouse with mouth watering cuisine and full-service bar; and a new ProLink GPS system offering pinpoint yardages. The greens are described as "silky smooth" by Philadelphia Golf Magazine and the course is recognized as "One of the most player-friendly layouts in south Jersey" by Garden State Golf Magazine.
The dedicated, professional staff is committed to making your next experience better than the last, as no other course matches the character, convenience and charm of Brigantine Golf Links!
Video
Scorecard
| HAGEN | 1 | 2 | 3 | 4 | 5 | 6 | 7 | 8 | 9 | OUT |
| --- | --- | --- | --- | --- | --- | --- | --- | --- | --- | --- |
| Championship | 474 | 370 | 211 | 376 | 396 | 502 | 143 | 377 | 388 | 3237 |
| Regulation | 460 | 320 | 195 | 364 | 385 | 489 | 134 | 365 | 375 | 3087 |
| Silver | 408 | 300 | 141 | 312 | 321 | 370 | 125 | 317 | 320 | 2614 |
| Handicap | 14 | 16 | 4 | 12 | 2 | 6 | 18 | 10 | 8 | |
| Par | 5 | 4 | 3 | 4 | 4 | 5 | 3 | 4 | 4 | 36 |
| Forward | 404 | 252 | 135 | 308 | 317 | 368 | 116 | 310 | 315 | 2525 |
| Ladies' HCP | 4 | 16 | 8 | 12 | 6 | 2 | 18 | 14 | 10 | |
| Ladies' Par | 5 | 4 | 3 | 4 | 5 | 5 | 3 | 4 | 4 | 37 |
| VARDON | 10 | 11 | 12 | 13 | 14 | 15 | 16 | 17 | 18 | IN | TOTAL |
| --- | --- | --- | --- | --- | --- | --- | --- | --- | --- | --- | --- |
| Championship | 546 | 334 | 194 | 369 | 416 | 178 | 368 | 415 | 450 | 3270 | 6507 |
| Regulation | 534 | 317 | 164 | 345 | 373 | 167 | 330 | 400 | 435 | 3065 | 6152 |
| Silver | 440 | 310 | 155 | 266 | 351 | 146 | 272 | 320 | 380 | 2640 | 5254 |
| Handicap | 3 | 13 | 15 | 5 | 9 | 7 | 11 | 1 | 17 | | |
| Par | 5 | 4 | 3 | 4 | 4 | 3 | 4 | 4 | 5 | 36 | 72 |
| Forward | 437 | 285 | 146 | 262 | 310 | 130 | 266 | 317 | 375 | 2528 | 5053 |
| Ladies' HCP | 1 | 13 | 11 | 9 | 7 | 17 | 15 | 3 | 5 | | |
| Ladies' Par | 5 | 4 | 3 | 4 | 4 | 3 | 4 | 4 | 5 | 36 | 73 |
Course Statistics
| Tees | Yards | Par | Rating | Slope |
| --- | --- | --- | --- | --- |
| Black | 6524 | 72 | 70.2 | 123 |
| Silver | 6214 | 72 | 69.0 | 122 |
| Gold | 5203 | 72 | 66.2 | 115 |
Directions
Brigantine Golf Links
1075 North Shore Drive
Brigantine, NJ 08203
(609) 266-1388
VIEW MAP